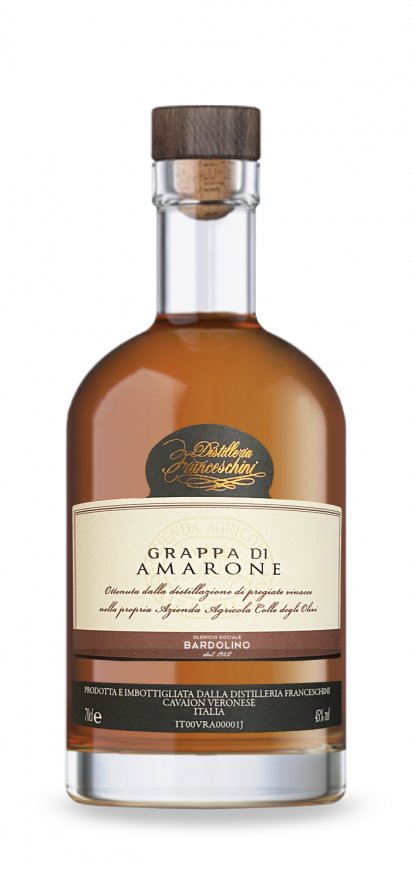 Packaging:

Astuccio

Alcohol content:

45 VOL %

Format:

0,70 lt.

Structure:

Morbida, Fruttata, Rotonda

Grape variety:

Corvina, Rondinella, Molinara

Producer:

Distilleria Franceschini

Region of origin:

Veneto
100% Privacy Guarantee
Secure payment by credit card
Infos
CARATTERISTICHE
---
DESCRIZIONE: ottenuta distillando le bucce di una selezione di uve passite, che derivano dalla produzione del pregiato Amarone della Valpolicella. Un procedimento di pressatura soffice consente di ottenere vinacce morbide e ricche di mosto. Questa preziosa materia prima viene distillata a vapore, attraverso tre stadi a temperatura differente, nei tradizionali alambicchi di rame. La Grappa ottenuta viene lasciata affinare in piccole botti di rovere pregiato, collocate nel silenzio di un ambiente buio, così in piena armonia estrae lentamente dal legno un colore naturale e un carattere pieno ed elegante.
NOTE DEGUSTAZIONE: i legni di rovere le conferiscono un color oro ambrato ed una inconfondibile struttura. Il gusto tostato lascia spazio a note fruttato floreali, morbida e intensa allo stesso tempo, dal gusto ampio e di grande struttura.

INVECCHIAMENTO: caratterizzata da un medio invecchiamento in barriques.
---
Reviews
Nobody has written a review yet. Be the first!