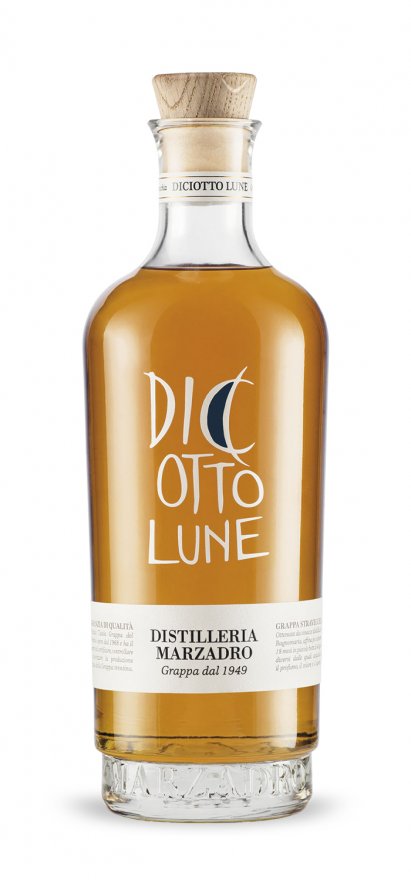 Alcohol content:

41 VOL. %

Format:

0,50 lt.

Structure:

Morbida, Asciutta

Grape variety:

Chardonnay, Merlot, Teroldego, Marzemino, Moscato

Producer:

Distilleria Marzadro

Region of origin:

Trentino Alto Adige
100% Privacy Guarantee
Secure payment by credit card
Infos
CARATTERISTICHE
---
DESCRIZIONE: Grappa Stravecchia emblematica della cultura, della cura e dell'arte del distillare. Ottenuta dalla distillazione a Bagnomaria in alambicco discontinuo di 5 vinacce trentine quali Marzemino, Teroldego, Merlot, Moscato e Chardonnay, affina in piccole botti di Ciliegio, Frassino, Rovere e Robinia che regalano ciascuno le proprie caratteristiche di profumo, aroma, colore e sapore. Il tempo di invecchiamento ricalca i ritmi della natura: di luna in luna scorrono 18 mesi. Nasce così, Diciotto Lune Marzadro, raffinata Grappa da meditazione.
NOTE DEGUSTAZIONE: Il profumo si fa intenso, diviene più etereo ed armonico, il gusto perde le spigolosità iniziali e si arrotonda per dare una percezione in bocca elegante e setosa. Il colore raggiunge una calda tonalità ambrata.
INVECCHIAMENTO: 18 mesi in botti di Ciliegio, Frassino, Rovere e Robinia.
---
Reviews
Nobody has written a review yet. Be the first!