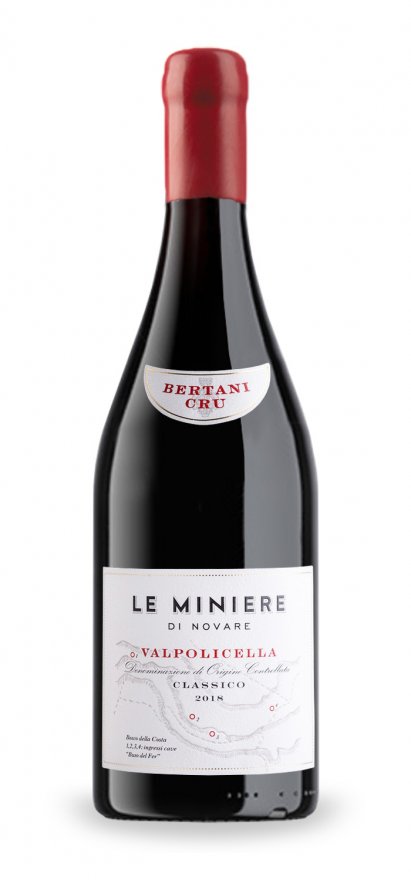 Bertani
VALPOLICELLA CLASSICO -LE MINIERE DI NOVARE- "Bertani Cru"
Alcohol content:

12,5 VOL. %

Denominazione:

DOC

Format:

0,75 lt.

Grape variety:

Corvina, Rondinella, Corvinone

Region of origin:

Veneto

Producer:

Bertani
€ 22,00
€ 18,90
including tax
-14%
you're saving € 3,10
100% Privacy Guarantee
Secure payment by credit card
Infos
CARATTERISTICHE
---
DESCRIZIONE: Questo Valpolicella nasce dai vigneti posti sopra le miniere di Novare, che si estendono per oltre due chilometri all'interno del versante esposto a sud-ovest della Tenuta, dalle quali in passato si estraeva la pirulosite (ossidi di ferro) e manganese. LE MINIERE, grazie ai suoli calcarei ricchi di questi elementi, regala un Valpolicella che esalta i caratteri fruttati, pepati e salati tipici delle uve Corvina e Corvinone. Le Miniere affina in vasche di cemento per circa 6 mesi.
NOTE DEGUSTAZIONE: un naso che si caratterizza per note di frutta fresca, ciliegia, frutti di bosco, fragoline selvatiche complessate da eleganti note di pepe bianco tipiche della Corvina. In bocca il vino è sapido, leggero ma di lunga persistenza e personalità.
ABBINAMENTI: Ideale con carne, formaggi e salumi.
TEMPERATURA DI SERVIZIO: 16° / 18°
---
Reviews
Nobody has written a review yet. Be the first!